Welcome to Camp Sabros, where nature's beauty and exhilarating adventures come together to create an unforgettable experience. Nestled in the heart of Davao del Sur's lush landscapes, Camp Sabros invites you to escape the ordinary and immerse yourself in the extraordinary. From high-altitude ziplining to horseback riding through picturesque trails, every moment here is a chance to forge lasting memories and connect with the great outdoors.
Camp Sabros Informations
Location: A Serene Retreat Amidst Nature's Embrace
Camp Sabros Mountain Resort is situated amidst the elevated terrains of Sitio Barras, Kapatagan, Digos City, within the scenic province of Davao del Sur. This exquisite destination forms an integral part of the majestic landscape surrounding the Philippines' loftiest summit – Mount Apo. 
Map and Directions: Finding Your Way to Camp Sabros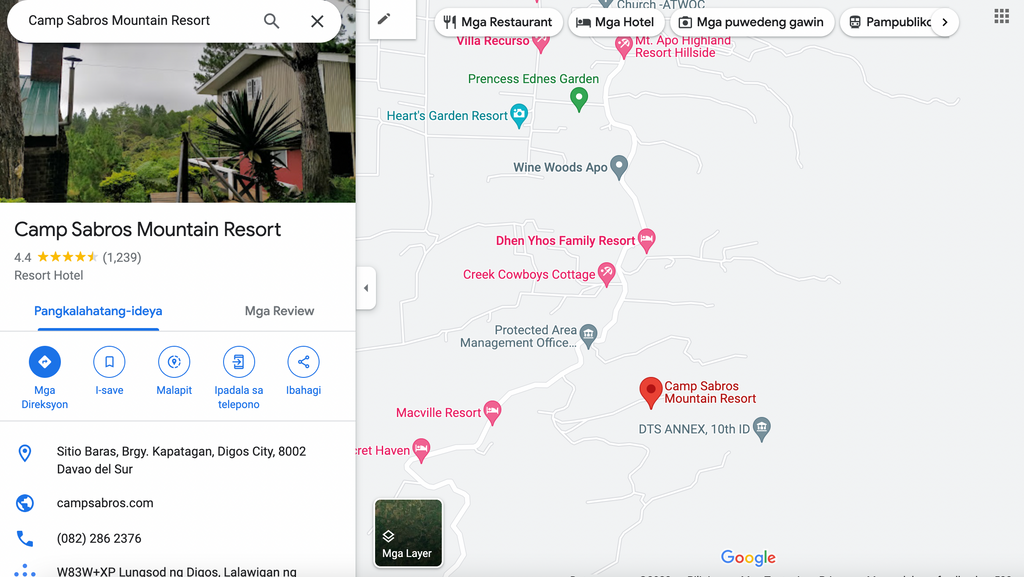 To ensure a seamless journey, we provide a detailed map and directions to Camp Sabros. Navigate your way effortlessly using our map and reach us without any hassle. Click here for Map and Directions
Transportation: How to Reach Camp Sabros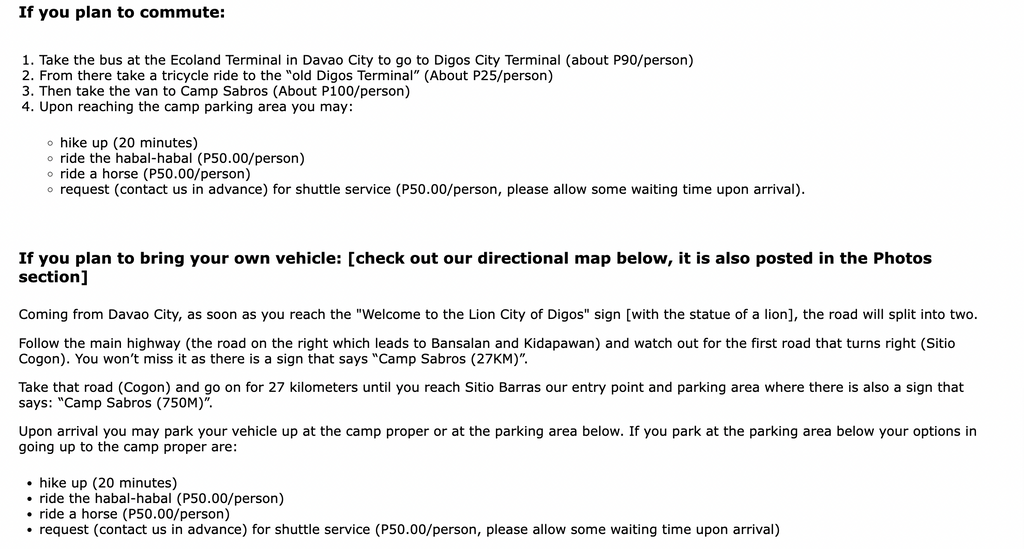 Camp Sabros is conveniently accessible by various means of transportation. Whether you're arriving by car, bus, or other modes, our camp is well-connected to major routes, ensuring a smooth journey for all adventurers.
Reservations and Booking: Your Gateway to Unforgettable Moments
Embark on your Camp Sabros adventure by making an online reservation through our user-friendly booking platform. Secure your spot in advance and choose from a range of exciting packages designed to cater to your preferences and interests.
Camp Fees: Embrace Adventure Without Breaking the Bank
At Camp Sabros, we believe in providing exceptional experiences without compromising affordability. Explore our diverse pricing options, each offering a unique blend of activities, accommodations, and amenities to suit your budget and desires.
The Activities in Camp Sabros
There are have an array of exhilarating activities at Camp Sabros that promise to elevate your outdoor adventure experience. From the heart-pounding thrill of high-altitude ziplining and cable car rides to the serene tranquility of horseback exploration, Camp Sabros offers something for every adventurer. And when the weather permits, come together for enchanting nighttime bonfires, creating lasting memories under the starlit skies. Embrace the spirit of adventure and connect with nature in unforgettable ways at Camp Sabros.
Ziplining and Cable Rides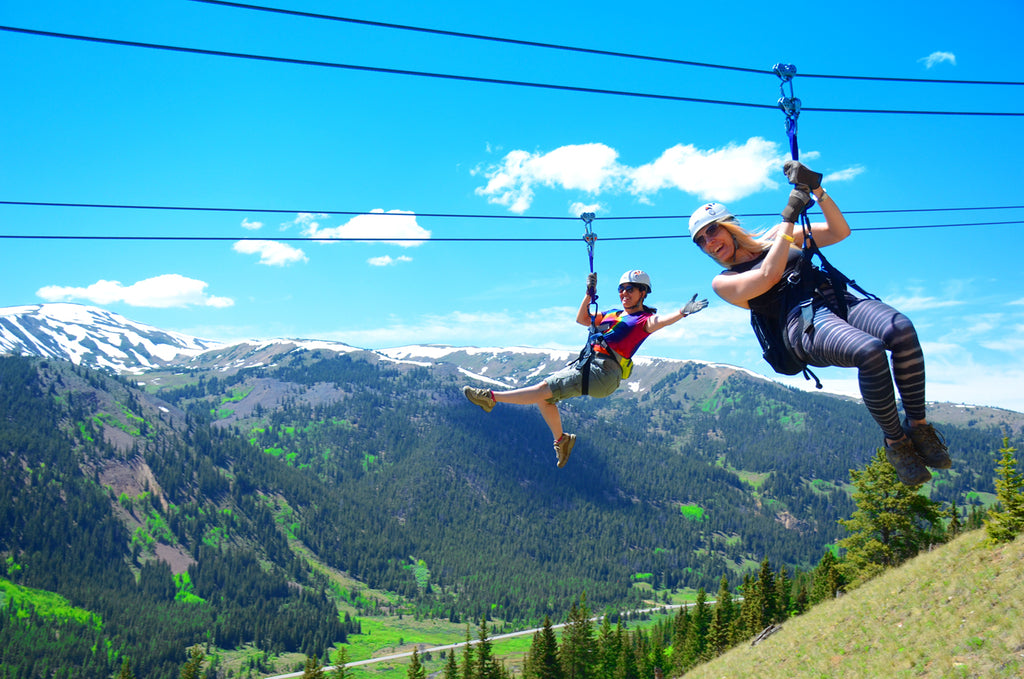 Experience the thrill of defying gravity as you glide through the air on our high-altitude zipline. With breathtaking views of the surrounding landscapes and lush forests, this adventure offers an adrenaline rush like no other. If you're seeking a leisurely exploration, our cable car rides provide a serene journey amidst the beauty of nature.
Horseback Riding
Saddle up and embark on an enchanting horseback journey through the picturesque trails of Camp Sabros. Immerse yourself in the natural beauty that surrounds you, as our well-trained horses guide you through the verdant landscapes and offer a unique perspective of the stunning environment.
Nighttime Bonfires (Weather Permitting)
When weather permits, gather around a crackling bonfire under a starlit sky and experience the magic of a Camp Sabros evening. Share stories, and laughter, and forge bonds with fellow adventurers, creating memories that will warm your heart long after the embers fade.
Essential Facilities in Camp Sabros
Camp Sabros not only offers thrilling adventures but also ensures your comfort and convenience with essential facilities. Indulge in a culinary journey at Rebel Bar & Restaurant, where a fusion of American and Filipino flavors awaits. Our on-site convenience store is your go-to spot for quick snacks and necessities, while the souvenir shop lets you take a piece of Camp Sabros home. And with our comprehensive dining services, your body and soul will be nourished, allowing you to fully immerse yourself in the wonders of Camp Sabros.
Rebel Bar & Restaurant: Where Culinary Adventures Await
Indulge your taste buds at Rebel Bar & Restaurant, a culinary haven offering a delectable fusion of American and Filipino cuisine. Savor mouthwatering dishes crafted with the finest ingredients, and quench your thirst with an array of beverages. Whether you're seeking comfort food or gastronomic exploration, our restaurant is a hub of flavors and experiences.
Convenience Store: Your One-Stop Shop for Snacks and Necessities
For those quick cravings and essential needs, our conveniently located on-site convenience store has you covered. Browse through a variety of snacks, beverages, and basic necessities, ensuring you have everything you need for a comfortable and enjoyable stay.
Souvenir Shop: Take a Piece of Camp Sabros Home with You
Commemorate your Camp Sabros adventure with a visit to our souvenir shop. Discover a range of unique mementos and keepsakes that capture the essence of your journey. From trinkets to treasures, our shop offers a selection of souvenirs that allow you to relive the magic of your time at Camp Sabros.
Dining Services: Nourishing Your Body and Soul
Camp Sabros takes care of your culinary needs with a range of dining services designed to provide nourishment and delight. From hearty breakfasts to satisfying lunches and dinners, our dining offerings ensure that your appetite is satiated, allowing you to fully immerse yourself in the camp's activities and experiences.
What Needs to Prepare for Camp Sabros
As you embark on your journey to Camp Sabros, proper preparation ensures a seamless and enjoyable experience. Here's a guide on what you need to bring to fully embrace the wonders that await you.
Essential Packing List:
Appropriate Clothing: Pack comfortable clothing suitable for outdoor activities. Include sturdy hiking boots, weather-appropriate attire, and rain gear to stay prepared for various conditions.
Personal Items: Don't forget essentials such as toiletries, medications, and personal identification. A first aid kit can come in handy for minor injuries.
Sun Protection: Sunscreen, sunglasses, and a wide-brimmed hat provide protection from the sun's rays during outdoor excursions.
Camera and Binoculars: Capture the breathtaking landscapes and wildlife encounters. Binoculars enhance your exploration of the surrounding nature.
BLUETTI Portable Power Station: Ensure your devices stay powered with the reliable BLUETTI AC180 Portable Power Station. Capture memories, stay connected, and enhance your camping experience with uninterrupted power.
With this checklist in mind, you're well-equipped to embark on your Camp Sabros adventure. Proper preparation guarantees you'll make the most of your time at this captivating haven of nature and exhilarating experiences.
As we conclude this guide, we invite you to embark on a journey that transcends the ordinary. Camp Sabros offers more than just an escape – it's an opportunity to rediscover your sense of wonder, unleash your inner adventurer, and create bonds with fellow explorers. With a range of activities, essential facilities, and the stunning backdrop of Davao del Sur, Camp Sabros promises an adventure that will rejuvenate your spirit and leave you with stories to share for years to come. So, book your adventure, prepare for the experience, and get ready to embrace the magic of Camp Sabros.