Power outages in the Philippines, especially during the rainy seasons, are quite a hassle, right? The rain comes pouring down, the storm starts to howl, and suddenly, the lights go out. It quite feels like a suspense movie scene. Yet, unfortunately, it is something happening in reality.
But you can handle these stormy, frustrating situations with a couple of wise strategies. You can keep a flashlight or portable charger handy. Or you can invest in a solar generator as a backup solution for these frequent power outages.
This article will share some practical tips on how to deal with those pesky power outages and also how to stay safe and avoid the consequences of these typhoons and storms.
Where Can You Find Power Outage Information?
In recent years, the Philippines has experienced a surge in the frequency and intensity of rainstorms and typhoons. The reason is quite obvious - human activities and climate change. According to the data from the Philippine Atmospheric, Geophysical and Astronomical Services (PAGASA), the country witnesses an average of 20 typhoons annually because of rising sea surface temperature.
Thinking about how it's relevant to power outages? These tropical cyclones directly impact the power infrastructure. They bring heavy rainfall, storms and flooding, which in turn damage power lines, substations and other electrical equipment. For instance, super Typhoon Rammasun in 2014 caused widespread destruction to power infrastructure and left millions of people without electricity for weeks.
So, under such unfortunate situations, it's crucial to know where to find power outage information. This beforehand information can help you have your backup plans ready ahead of time. Below discussed are some reliable sources you can turn to for this kind of information:
Electric Utility Companies
Local electric utility companies are the first stop on your outage information. Visit the site of your specific provider, be it Meralco, VECO or Davao Light and Power Company. All these electric utility companies share real-time updates on power outages in your area. 
News Websites and Apps
The next go-to source is local news outlets. They are on the pulse of what is happening around them. So, they can provide you with a broader picture of power outage situations, rainstorms or other emergencies in your area.
Online Forums and Community Groups 
And yes, don't forget about online forums and community groups. They can be surprisingly informative during power outages. Local residents often share updates and experiences on these channels. So they can help you estimate the outage extent and its possible duration.
Possible Causes of Rainy Season Power Outage
Rainy season power outages often feel like uninvited guests. But there are various culprits behind the scene. Here are some of them:
Heavy Rainfall and Flooding 
Well, we all know that water and electricity cannot mix well. Rain can be your friend and foe at the same time. When it gets too heavy, it can lead to flooding, which can damage power lines, transformers, and other electrical infrastructure. 
Strong Winds and Typhoons
The Philippines is no stranger to those mighty typhoons. The angry winds can easily knock down trees, branches, and power lines, causing large power outages. In simple words, these storms are the bullies of the weather world.
Landslides and Mudflows
Is your home in a hilly or mountainous area? Heavy rainfall can trigger landslides and mudflows there, which can bury the power infrastructure beneath large amounts of debris. The result - a large-scale power outage.
Lightning Strikes
Rainstorms often bring along lightning strikes. And while lightning might look wonderful from a distance, it is a real troublemaker when it comes to power outages. A single strike can fry transformers and other equipment in an instant.
Flooded Substations
Substations are the heart of the power distribution system. If they get flooded due to heavy rain, they can go haywire and cause disruptions throughout the grid.
Potential Risks of Power Outages During the Rainy Season
Power outages during the rainy season have some severe implications. They disturb the balance of life and also have economic consequences. Here is a follow-up on some of these risks:
Communication Shutdown
Modern communication is heavily dependent on electricity. So, power outages during the rainy season can lead to communication shutdowns. This means you wouldn't be able to make emergency calls and access weather-related critical information. It is particularly concerning when timely communication is necessary during these times for public safety.
Compromised Healthcare
Healthcare facilities need continuous power for medical equipment. Power outages during the rainy season can compromise patient care and particularly impact elders and those with chronic illness or life-support systems. 
Transport-Related Issues
Transportation systems, such as trains, airports and traffic signals, need electricity for smooth functioning. Rainy season power outages can disrupt these systems. The outcome? Another episode of flight delays and road congestion. Slippery and wet roads also increase the risk of accidents.
Economic Slowdown
Rainy season power outages also affect businesses, factories and offices. This leads to a loss in productivity. According to the Philippine Institute for Development Studies, a power outage of 5 hours causes economic losses worth P556 million.
Tips to Counteract Rainy Season Power Outages During Typhoons and Storms
Power outages during the rainy season and typhoons can be a real nuisance. But here are some effective tips to counteract this:
Install Surge Protectors
Surge protectors can act as bodyguards for your electronic devices. They will shield your devices from voltage spikes caused by lightning and storms. 
Backup Power Source
Have a backup power source. A solar generator or portable power station can be a lifesaver during extended outages. It will keep your essential devices working.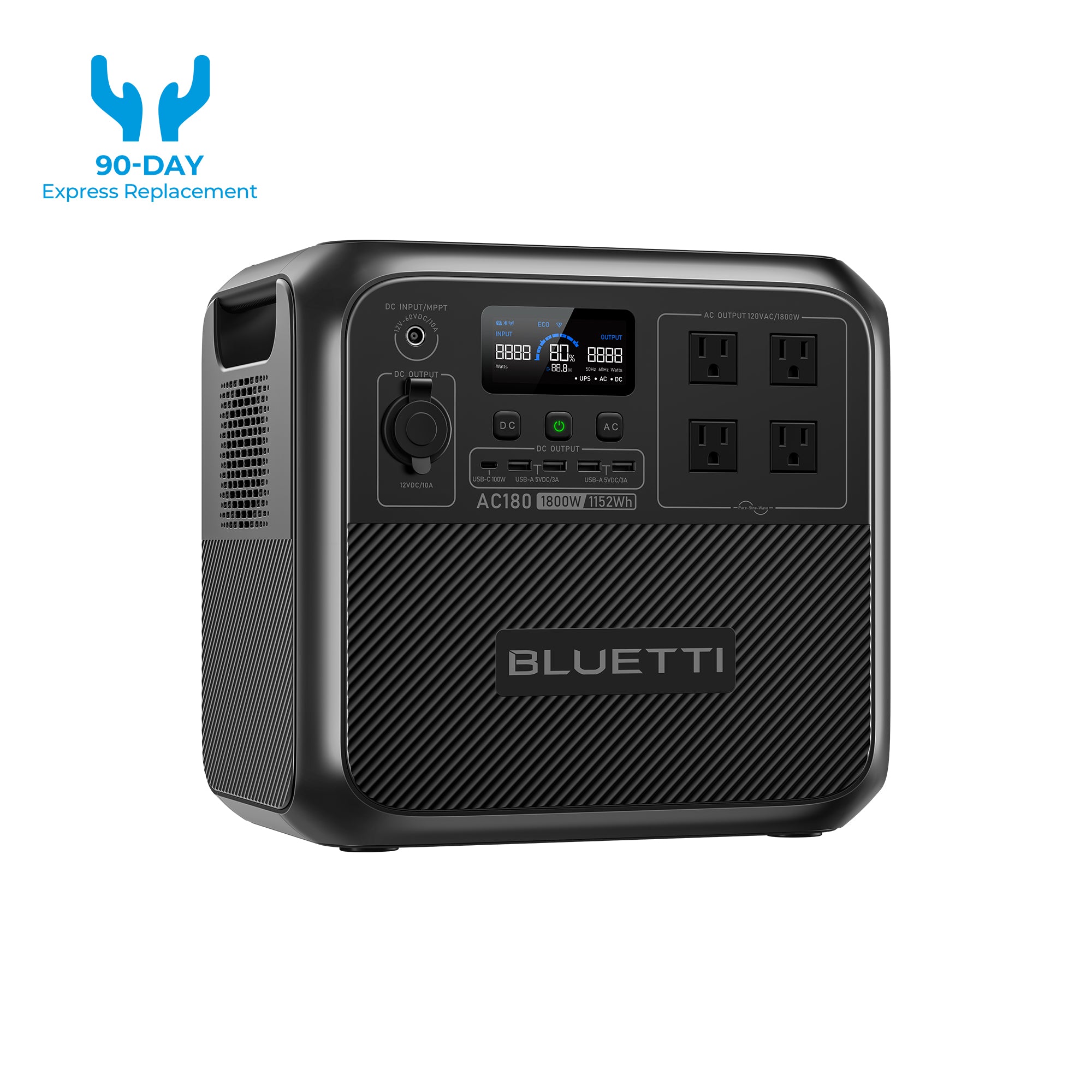 Portable Power Station
Power Pretty Much Anything,One Hour to Charge, All Day to Power
Keep An Emergency Kit Ready
Think of it as your power outage survival kit. This kit should contain flashlights, batteries, emergency medicine and first aid stuff.
Trim Trees and Foliage
Prune trees and remove dead tree branches near power lines. Otherwise, they can fall and cause outages. Overhanging foliage can also affect the power lines during typhoons and storms.
Create An Evacuation Plan
Do you live in flood-prone areas of the Philippines? If yes, have a clear evacuation plan ready. Identify safe shelters and routes to follow during emergency exits.
Stay Away from Downed Power Lines
If any power lines get down during the storm, maintain a safe distance from them. They can be dangerous. So, immediately report them to authorities and let the experts handle them.
3 Recommended Solar Generators for Rainy Season Power Outages
Next, here are three recommended solar generators for rainy season power outages. 
The BLUETTI AC180 is the most reliable companion when it comes to rainy-season power outages. With a big capacity of 1152Wh and a continuous output of 1800W, the AC180 can meet all your power demands. 
The AC180 is always ready to provide the power you need. It can charge up to 80% in only 45 minutes. Another best thing is you can control it with your BLUETTI mobile app.
Additionally, it comes with a bunch of outputs like AC outlets, USB-A, USB-C, 12V DC outlets, and even a wireless charging pad. It means you can keep your devices active even during extensive power outages. 
The AC180 also has a powerlifting mode, which can flex a massive 2700W for those power-hungry gadgets. Last but not least, the AC180 comes with a solid 5-year warranty for your peace of mind.
The BLUETTI EB70 is another trustworthy solar power station. With its 800W/1000W power inverter and a 716Wh battery pack, The EB70 provides enough power during those annoying rainy season power outages.
With a total of 12 output ports, the EB70S is all set to charge multiple devices at once. It also has a wireless charging pad that can juice up your devices with 15 watts of power. 
Additionally, the EB70 ergonomic handle design makes it easy to carry wherever you go. You can move it even with one hand. So, with the EB70, you would never be caught off guard by unexpected power outages.
Now comes the ultimate solution for those looking for a powerful backup source - the BLUETTI AC200MAX. 
This generator has two expansion ports. And each port can accommodate BLUETTI B230 (2048Wh) or B300 (3072Wh) battery modules. This way, this solar generator can give you a whopping capacity of 8192Wh.
The AC200MAX is one of the fastest-charging solar generators on the market. It can handle up to 900W of solar input and 500W with an adapter. You can even charge it using both a solar panel and a wall outlet at the same time.
It has 16 outlets, including a specially designed built-in 30A NEMA TT-30 outlet and a 12V 30A really powerful DC outlet. It's a solid solution for anyone looking for reliable power in tough conditions.
Final Thoughts
Rainy season power outages in the Philippines can be a real headache. But if you are prepared and have the right tools, it can be easy to navigate them. Keep your essential things within reach. Think about having backup power options and stay in the loop about any possible outages. 
Also, check out BLUETTI's reliable solar generators to ensure your comfort and safety during tough times. With these tips, you will be all set for rainy-season power outages during typhoons and storms.